Safety Equipment

It is recommended good practice that you carry the following
items of safety equipment for use in emergencies or
breakdowns. You need to be prepared to deal with situations
that happen in daylight as well as in poor visibility or at night.
The following items should be kept in a place that is easy and
quick to access in an emergency:
Warning triangle
First aid kit [for driver]
Torch
High visibility jacket(s). Keep one for each occupant in the
vehicle cab at all times

Seating position and safety

There is an increasing trend in the numbers of drivers suffering
from back, neck or shoulder problems. These problems can be
made worse by bad driver position in the vehicle, poor posture
and long time spent in a sitting position behind the wheel. To
reduce the risk of such problems occurring and to provide you
with improved neck, and spine protection, the following should
be adopted:
The lower chest should come forward and up in order to
relax the shoulder blades, back and downwards
Shoulder blades should be in good contact with the back of
the seat. The lower spine should not push into the back
support
As a guide, Hands should generally be in the 'ten to two' or
'quarter to three' position on the steering wheel [depending
on which is most comfortable]
The steering wheel should be directly in front of the driver
and the driver should be able to rest their wrist on the top the steering wheel without stretching
The driver should be able to reach the pedals and controls
with undue effort
Seat belts

Seat belts must be worn by all passengers and the driver when a
vehicle is being driven. You should adjust the seatbelt to suit you
before driving.

The driver is responsible to make sure that all passengers,
including rear seat passengers, wear a seat belt on every journey,
no matter how short. This applies in vans, as well as cars, and in
larger vehicles if they have seat belts fitted.

Child restraints

For those whose driving for work duties involve carrying children
under 17 years as passengers, particular attention should be paid
to making sure that children are properly and securely restrained
in the vehicle to prevent unnecessary injury. Your employer
should provide the necessary information and training to allow
you make sure that child passengers are carried safely in the
vehicle that you drive.

Seat belts are designed for adults. In a crash, a child may slip out
of their seat belt because it is too big, and an ill-fitting belt could
even cause injuries. So, children need to use appropriate child
restraint for their weight, height and age.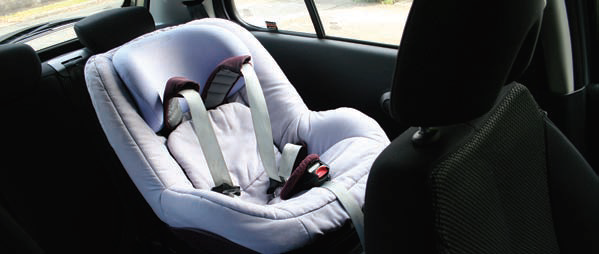 If you are carrying children ask your employer about child seats
and about training so you know how to check that the right ones are being used and you are able to fit them correctly. The safest place for children to travel properly secured, is in the rear of any vehicle. In a crash at just 50 Km/h, an unrestrained person is thrown forward with a force 30 to 60 times their body weight. They are thrown about inside the vehicle, injuring themselves and quite possibly seriously injuring (or killing) other occupants. They could also be ejected from the car through one of the windows ausing serious injury or death. It is not safe or legal to hold a child on your lap. It is also dangerous to put a seat belt around yourself and a child [or around 2 children]. The safest way for children to travel in vehicles is in a child seat that is suitable for their weight and height.

Seat belt offences attract penalty points and could result indis qualification from driving.
Securing Loads
It is illegal and dange
rous to drive a vehicle that is overloaded or
has a load that is not secured. As the driver, you are responsible
for ensuring that any load you carry is legal and safe, even if it
was loaded by another person.
Your employer is responsible for providing and developing clear
procedures and safe systems of work to help you to make sure
that loads are secured properly and safe for any vehicle that you
use for work.
If you are not sure how your vehicle should be loaded, talk to
your manager who should be able to clarify for you.
General considerations

Do not exceed your vehicle's Maximum authorised mass
(M.A.M). This is the maximum permissible weight the
vehicle is permitted to carry based on the capability of tyres,
suspension, etc. It includes everything in (including its
passengers), and on, your vehicle
Drive more cautiously as handling and performance will be
affected by the load and stopping distances will be increased
Make sure all items are secure. Items sliding around or
tipping over whenever you brake/turn will be both irritating
and very distracting
Heavy items should be packed tightly and properly
secured to the vehicle body to reduce the risk of them
bursting through in a crash. This makes for better weight
distribution and vehicle handling
Can you still see?
Avoid packing items above the back seat line so that you
see clearly out of the back window
Consider using a roof rack or roof box for lighter or
bulkier stuff to leave more room inside
Passengers come first
If you have to fold seats to get a large or awkward load
in the vehicle, come back for your passengers later on.
This is especially important if the load prevents them
from putting their seat belt on
Keep the dash and front floor space clear. Items that fall off
and roll around could get lodged under the brake pedal
Keep larger or heavier items low down in the vehicle
Put the bigger items in first and then pack the smaller
items around the larger items as this will help keep your
centre of gravity lower to minimise the effect on
handling
Roof Rack/Roof Boxes
Roof racks are a great way of carrying very large or awkward
items but take care:
If you use a roof rack or roof box, you should:
Check that the roof rack or roof box is suitable for the
load being carried
Make sure that it is correctly and securely fitted
Check your vehicle manual to make sure that the load,
including the weight of the roof rack/roof box itself,
doesn't exceed the maximum permissible weight of the
vehicle
Make sure that your load is securely attached and that it
doesn't stick out creating a danger to other road users.
Especially pedestrians and cyclists!
Make sure there is a secure fixing, holding the front of a
long load down [e.g. ladders]
Make sure all fixings and restraints to the rear are well
secured to prevent loads sliding forward under heavy
braking
Stop, check and re-secure your load regularly.
Fixings and restraints will work loose during a journey
Make sure to think about the extra height when
approaching bridges and other overhead structures
Distribute weight safely. If you can, try to put bulky but
lighter items on the roof and heavier items in the vehicle.
This will help keep the centre of gravity down and
improve stability
Think about how, and where, you can safely load and
unload things in a roof rack
Think about how the extra weight affects the vehicle's
handling and stopping distances
Check whether tyre pressures should be adjusted when
carrying a full load
Towing and Trailers
Only use a trailer if you have the correct licence to do so, and
you have been trained to drive with one. Make sure you know
how to connect the trailer, including the electrical connections.
Ensure that it is not overloaded and that the weight is evenly
distributed and securely covered. Make sure no items are sticking
out. Cars towing trailers are subject to lower speed limits and
should not generally use the overtaking lane on dual
carriageways and motorways.
Checks before towing
Make sure you have the correct
licence for the trailer being towed
The tow bar or towing device is
strong enough and attached
securely
The safety breakaway cable is
secured in place
The load in the trailer is spread
evenly across the axles
The wheels, tyres, wheel bearings,
steering suspension and brakes are
in good working order
All lights and reflectors on both the
vehicle and the trailer are clean and
in good working order
There is clear unobstructed view for
all windows and mirrors
Carry a spare wheel for your trailer
Maintain your trailer in good
roadworthy condition
Actions when towing
Where possible, drive out forward
from parking position
Drive at a speed appropriate to
the prevailing road and weather
conditions
Take extra care when accelerating
and braking and especially when
approaching corners and roundabouts
Leave more distance than usual
between you and the vehicle in
front
Allow plenty of extra time and
space if entering traffic
Allow extra time and distance for
overtaking other road users
Take extra care when driving in
high winds
If following traffic is building behind
you, as a courtesy, and when
safe to do so pull over to allow
Vehicle security

There are many simple steps that you as a driver can take to safeguard your vehicle. When parked remove the ignition key, engage the steering lock
and apply the parking break before getting out of your vehicle.
To prevent your vehicle being stolen or broken into:

Never leave your vehicle unattended when you are
warming it up in winter or cooling it down in summer
Lock the vehicle. Even if only leaving it for a couple of
minutes. E.g. when paying for fuel
Close all windows fully
Never leave work documents or equipment or personal
items on view inside the vehicle
Use attended or secure vehicle parking areas
Always park in well-lit areas
vehicles behind you to overtake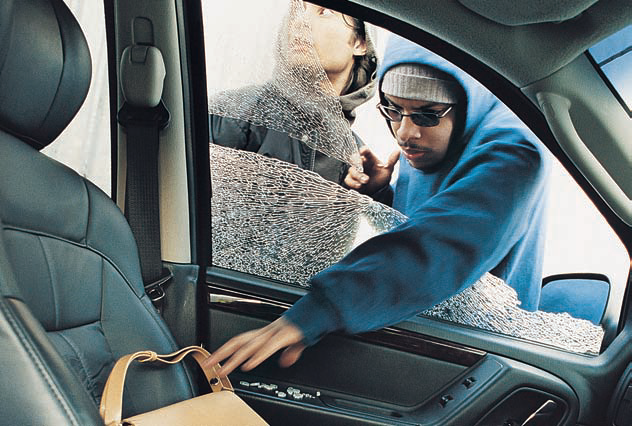 Key security

Always keep keys safe when not using your vehicle. That
means:
Out of sight
In a secure place
Out of reach of children
Away from windows and doors
Not leaving them on a desk in an open office area,
especially where there is public access
Never displaying the registration number on the key ring
Always take and keep your keys with you when you leave the
driver's seat. E.g. loading items into rear of vehicle
Electric Vehicles

Electric vehicles are in many ways similar to petrol or diesel
vehicles. However they are so quiet that you can barely hear
the motor run, even at top speed. This may be a danger to
pedestrians, particularly pedestrians crossing the street or in
parking areas as they cannot hear the car coming. If you drive
an electric vehicle you must be constantly aware of this issue
while driving in populated areas.
Drivers also need to be aware that electric vehicles have very
powerful motors to power them. When moving from a
stationary position you need to be very careful because the
vehicle accelerates faster and has more torque than a petrol or
diesel powered vehicle.